Thanksgiving is an amazing holiday about being thankful and connecting with family. It's a shared meal that bonds people together over the universal feeling of breaking bread and creating comradery. It's also, essentially, a really big celebration to plan. For most people Thanksgiving consists of watching football and then devouring the delicious 5-course meal, magically placed in front of you at 5 o'clock.For the chef and hosts of your family's delicious Thanksgiving dinner, it's a long, complicated process of remembering every ingredient, picking the perfect sides and main course, cooking everything to perfection! It's also deciding where everyone will sit, making sure everyone is entertained, everything is spotless, and everyone is getting along. It's an arduous task and shouldn't be taken on without a few helpful tips that are sure to make your Thanksgiving bash run smoothly!
Tips:
Read over each recipe and then make your grocery list. Write out the menu and a shopping list.
Make sure you have all the kitchen equipment you will need, especially a large roasting pan if you are roasting the turkey. A meat thermometer comes in very handy as well.
Decide whether you want help you, either by guests bringing parts of the meal (wine, dessert, appetizers, and side dishes) or by coming early to help in the kitchen. Make sure everyone knows what they are bringing and what, if any, serving dishes and utensils you'll need to serve.
Clean out the refrigerator to make room for the Thanksgiving dinner groceries and prepared dishes. It's a hard task, but it must be done. You'll thank yourself later when you need space to store leftovers!
Do your non-perishables shopping now. Buy all the ingredients listed for your Thanksgiving dinner recipes.
Wait until the day before Thanksgiving to buy salad greens, fresh breads, or seafood.
A few days before Thanksgiving, iron table linens, designate serving platters, and make sure your glassware and silverware is clean. Also write up a seating chart so conversation flows the entire meal.
Clean your house. The most important areas are the kitchen and bathrooms the guests will be using.
Unless your dinner is sans children up with a plan to keep kids entertained. Purchase new and fun games and serve some food that's kid friendly.
Also, don't forget to set the mood with cheerful holiday tunes!
With these tips your Thanksgiving is sure to run smooth and hassle free!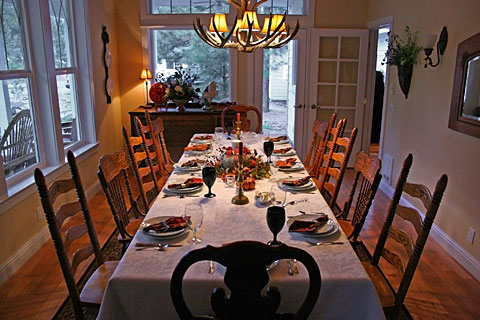 Shop online at
Yummy Holidays