Thanksgiving is a time to get together with your family and friends and reflect on all the things you should be grateful for. When I was a kid it was tradition to go around the table before our meal and say one thing you're grateful for. Even as a kid I felt very humbled and special to participate in this tradition. Kids are a big part of this holiday. They may be separated from the "adult" table during dinner, but all the festivities make life-time memories for kids. That's why it's important to help make them involved and entertained during this special time. Here are some helpful tips on keeping kids entertained before dinner starts!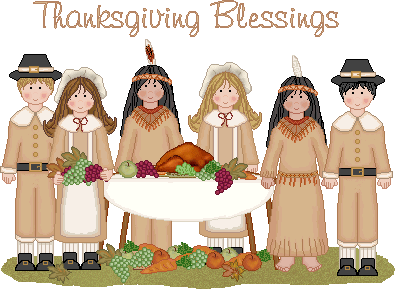 • Thanksgiving Crafts: Don't just plop kids in front of the television, it's doesn't stimulate their minds to watch a television show they could have watched any other day of the year. Try some different crafts! Have each child make a special Thanksgiving themed picture on a card and use each mini-masterpiece as a place card for your dinner guests. Have each guest take home their name card for a special and simple holiday gift.

Materials:
• Nontoxic ink pad
• Blank place cards
• Markers
Directions:
1. Press a thumb into the inkpad and then on paper to print a turkey's body. Use the same technique with fingertips to create a head and feathers.
2. Use markers to add a beak, wattle and feet.
3. Complete the cards by writing in guests' names.

• Read them a story: Kids love stories. If you're not too busy look up the tale of the first Thanksgiving, or other stories related to Thanksgiving. Gather everyone up and have a special (and quiet!) story time reading session. Its simple and it might even encourage the children present to pick up a book and start reading more themselves!

1. The First Thanksgiving by Nora Smith
2. A Thanksgiving Dinner That Flew Away by H. Butterworth
3. How Indian Corn Came Into the World by Henry R. Schoolcraft (adapted) An Ojibbeway Legend
4. The Horn of Plenty by Ovid

These ideas should help keep kids occupied and active until the food is ready! And it's a creative way to create great holiday memories!
Shop online at
Yummy Holidays