Halloween comes around once a year. That may not seem very often, but think about this: Most people spend an average of 20-50 dollars every year on a costume...a costume they're only going to wear once! Nobody wants to be Frankenstein 3 years in a row! The whole fun of Halloween is the different outrageous costumes that scare you. You can still have a scary and unique costume, but you won't have to spend tons off money every year. You can use everyday household items for your costume AND some scary make-up. The possibilities are endless. Here are a few of my favorite tips and ideas:
Modern Art:
I love art. Museums are a staple and I think the idea of grabbing a sheet and painting your own rendition on a famous modern art painting is clever and hassle-free. Stick to something by Jackson Pollock or a Mondrian painting because they are very easy to recreate without being a proper artist.
An Animal:
Lot's of household thing can be used to recreate different animals. Case in point: A broken umbrella. I bet you never notice how similar the top of an umbrella is to bat wings! Instead of throwing that old umbrella in the trash simple cut out portions, wear all black, and viola! You're a spooky bat!
Left Overs:
This one is easy and a great conversations starter! All you need is aluminum foil or saran wrap. Just wrap yourself up, grab a tupperware lid and tell everyone you're Monday night's leftover meatloaf!
Anyone who really loves Halloween knows it takes more than just a body costume to put together the perfect look. You need make-up. Whether is fake blood dripping from your vampire fangs, or caked on zombie make-up, you can mix up a few organic things at home and have chemical free make-up for your costume!
For stunning red lips try mixing:
¼ cup beeswax
¼ cup castor oil
2 tablespoons sesame oil
Sesame-Seed-
Oil-Organic-Extra-Virgin

It makes for an amazing and organic lipstick. Plus it has sesame seed oil in it which is a very
nourishing oil for dry lips!
You can also make edible goop! It can be used as warts on witches
or scars on zombies! Mix together these ingredients:
1 oz. gelatin
, add 2 tablespoons boiling water and stir, let sit for 3 minutes. Gelatin doesn't
always smell so good to children so try adding a couple drops of essential oil to the mix for a
naturally great smell.
I've added a couple links to an awesome site where you can get a few of the organic products mentioned, too! Hope these tips help save everyone money and have unique Halloween costumes for years to
come!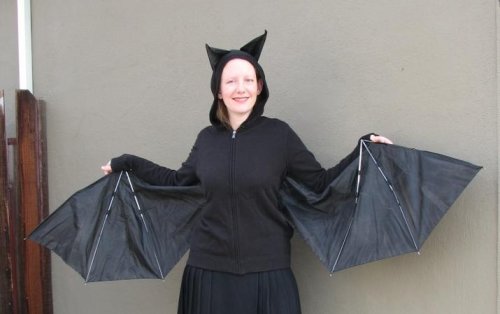 Shop online at
Yummy Holidays